Home
Frequently Asked Questions
What qualifications are needed to inspect in my state?
PMII's mold certification and training courses will help you become a certified mold inspector or remediator in every state except Texas and Florida, which have special requirements. It is important to note that many states are considering regulations or have legislation pending for mold inspectors. For this reason it is important to consider starting your training now and get "grandfathered in" before new laws are passed. Contact your state government for information on pending legislation.
What are the career opportunities for Mold Inspectors?
Mold inspections typically start at around $300 and have become the fastest growing niche market in the real estate industry. Because mold can be so dangerous to humans - especially young children - it has been called the "new asbestos" of this decade. A mold inspector service can become a highly-profitable new business, or when complementing an existing home inspection or other business can provide additional income. With many states drafting mold legislation and the public growing more aware of the dangers posed by mold, the mold inspection and remediation industry will only continue to expand.
What is the difference between mold inspection and remediation?
Mold inspection, both residential and commercial, is the visual identification and sampling of a property for suspected mold. This process may lead to mold remediation, which, depending on property size and extent of the damage, can cost thousands of dollars. Mold remediation falls outside the scope of a mold inspection, but in many cases mold inspectors also do mold remediation and vice versa. Mold remediation however is considered a separate industry that involves cleaning an area affected by mold, repairing it, and putting measures in place so that the damage does not re-occur.
Why should I join a non-profit mold association?
There are dozens of mold organizations to choose from, but many are operated by mold labs or schools. By operating for profit, a conflict of interest is the unfortunate end result for any national association whose purpose is to protect and educate the public. PMII graduates receive a $149 paid membership in the National Association of Mold Remediators and Inspectors (NAMRI). NAMRI is a non-profit organization.
How do I take the course and how long does it take?
You can take the course entirely online from any computer or, alternatively use the high-quality CD-ROM which will be mailed to you. Quiz results record and save automatically so you can check your progress in real time. The 90-hour mold inspection course is self-paced and can be completed in as little as 1-2 weeks, depending on your previous knowledge, personal study habits and attention to detail. You can take as long as you would like; there are no penalties for taking longer. The 24-hour remediation certification course can be completed in a few days. Upon passing the final exams, you can print out your individually numbered and signed certificate instantly!
Can I use PMII Logos to promote my business?
Yes. PMII logos are provided in various sizes that graduates can use to promote their business and certification credentials. Below are a few examples: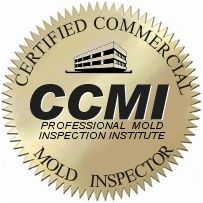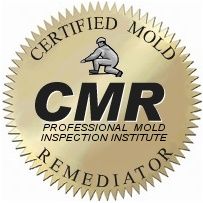 What kind of special equipment do I need to purchase?
Other than a respirator and protective clothing for hazardous locations, additional equipment is your preference, although different types of equipment have different pros and cons. Surface sampling can be done using low-cost plastic tape or swabs. Vacuum and air sampling require pumps and collection cartridges. You can expand your equipment based on the level of service you want to provide. The most popular equipment includes air sampling pumps, moisture meters, humidity meters, and infrared thermometers.
How do I select a laboratory for mold sample analysis?
There are many choices in laboratories, but you should use an accredited lab that is recognized by the American Industrial Hygiene Association. You should also look at cost, convenience, and turn-around time. Most Mold Inspectors pass all lab costs on to the customer, so you should make an effort to give your client the best value. As a Certified Mold Inspector it would be a conflict of interest to perform an analysis yourself, or to have any influence on the results of your professionally collected samples.
How do you compare to other mold training courses?
Cost Comparison:
Mold seminars typically start at around $1,000 for a 2-day seminar, not counting travel expenses which can double the end cost. Distance mold courses typically cost less than mold seminars due to lower overhead. Both types of courses can come with additional hidden costs such as franchise, annual, license application, and other fees. PMII offers one of the best enrollment prices for an accredited school and provides everything you need to learn from home. There are no recurring or hidden fees - guaranteed.
Content Comparison:
Many mold courses and seminars are less than 24 hours long. Many are not provided by actual schools but by mold labs or vendors, In some cases this is a thinly-veiled attempt to promote their sampling products. At PMII you will learn practical information, not theory. PMII's course material is aligned with national standards of practice for the mold inspection and remediation industry and is updated regularly. We focus on the key information that you must inspect for and include in your final report. Every lesson is concise and written in clear language that is easy to understand, and is accompanied by interactive menus, videos, photos and more to aid the learning process. We list the precise learning objectives for each lesson and teach you how to systematically perform each part of a mold inspection, including how to prepare your final report. PMII's training was designed "in-house" by certified, experienced mold inspectors who understand the trade.
Interactivity Comparison:
PMII offers online interactive mold training programs. Some competitors have placed their textbooks or tests online, but without interactivity that lets you know how much and how accurately you are learning. PMII's course is designed "from the ground up" to be used online interactively to teach you the material. Exclusive, interactive features include flash cards that ask you questions and test what you have learned, giving you instantaneous results. The online quizzes instantly grade your work and provide feedback so you can identify what you still need to learn. The video demonstrations, numerous color illustrations, and DVD companion provide the foundation for each new concept.
TIP: We encourage you to do your research before enrolling in any course. The majority of mold inspection courses are not offered by licensed training providers and course tuition is not refundable. Call and ask about the company's location, credentials, and policies before you enroll, and check their record with the Better Business Bureau. You can check our Better Business Bureau rating by clicking
here (PMII is a division of Be Online Inc).
What is an ACAC Registered Training Course?
The American Council for Accredited Certification (ACAC) is a non-profit independent certifying body that awards various environmental certifications based on education and experience. These certifications include Council-certified Indoor Environmentalist (CIE), Council-certified Microbial Consultant (CMC), and Council-certified Indoor Microbial Remediator (CMR), among others. PMII certifications have no affiliation with ACAC certifications. However, certain PMII courses are registered with the ACAC for test preparation or continuing education. ACAC certification is not required to work in the mold industry. An ACAC registered prep course is recommended before taking an applicable ACAC proctored exam.
How do you ship and what is your return policy?
Products are shipped via UPS Ground, Fedex Ground or USPS, and typically take 5-7 business days for delivery. We ship to the U.S. and Canada. For returns, everything must be returned in as-new condition within 30 days of receipt. Returns with damaged or used items will be prorated. Refunds are credited within 7 business days of receipt of the return. Shipping and handling is not refundable. You must contact us first to obtain a return merchadise authorization (RMA) number.
What is your privacy policy?
The following information discloses the privacy practices for this website and applies solely to information collected by this web site.
Information Collection, Use, and Sharing
We are the sole owners of the information collected on this site. We only have access to/collect information that you voluntarily give us via email or other direct contact from you. We will not sell or rent this information to anyone.
We will use your information to respond to you, regarding the reason you contacted us. We will not share your information with any third party outside of our organization, other than as necessary to fulfill your request, e.g. to ship an order.
Unless you ask us not to, we may contact you via email in the future to tell you about specials, new products or services, or changes to this privacy policy.
Your Access to and Control Over Information
You may opt out of any future contacts from us at any time. You can do the following at any time by contacting us via the email address or phone number given on our website:
See what data we have about you, if any.
Change/correct any data we have about you.
Have us delete any data we have about you.
Express any concern you have about our use of your data.
Security
We take precautions to protect your information. When you submit sensitive information via the website, your information is protected both online and offline.
Wherever we collect sensitive information (such as credit card data), that information is encrypted and transmitted to us in a secure way. You can verify this by looking for a closed lock icon at the bottom of your web browser, or looking for "https" at the beginning of the address of the web page.
While we use encryption to protect sensitive information transmitted online, we also protect your information offline. Only employees who need the information to perform a specific job (for example, billing or customer service) are granted access to personally identifiable information. The computers/servers in which we store personally identifiable information are kept in a secure environment.
If you feel that we are not abiding by this privacy policy, you should contact us immediately via telephone at 1-800-983-6322 or via the forms on our contact page.